Girls Club
Vision
To enable all young people, especially those who need us most, to reach their full potential as productive, caring, responsible citizens.
Mission
Provide a world-class Club Experience that assures success is within reach of every young person who enters our doors, with all members on track to graduate from high school with a plan for the future, demonstrating good character and citizenship, and living a healthy lifestyle.
Activity
Motivational Speech was given by DR.S.Vairam, Principal(Rtd) GPT,CBT. He continued by giving inspiring and informative speech to our staff members. In this program 90 staff members participated..In this session he discussed about his teaching and working experience. That speech was a very inspiring to us.Finally cake cutting ceremony, And we all take a group photo with all our staff members to enrich the day.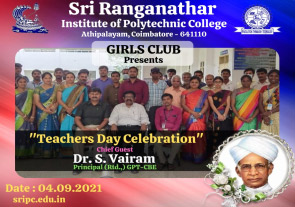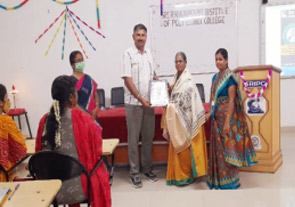 Speech was given Mrs.M.Revathi MEd, MPhil. Head Master in Vellaimadai Gov.Hrs.Sec.school. She continued by giving inspiring and informative speech to our girls students.
During this session our college ladies staffs and 90 girls students are participated.
Science Club
World Humanitarian Day
Attitude of students
Opportunities are available
India has enormous resources
Institution teach discipline students
Success is not only a measurement of life
Indians are employed in Gulf countries
Skills to be developed
Engineers have ultimate opportunities
Competitive world
Visiting technologies
Enhancing your career by skill sets
Concentrate on your interested areas
Loyalty is more important
Continues improvement on skills
Plan your work
Learn new technologies
It more important that you are a player instead of being out of the game
Challenging environment is not negligible
Life is not only for success and is for progress
The oath of today is Changes are inevitable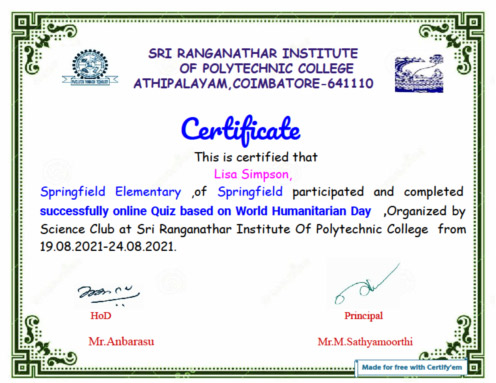 The Bharat Scouts And Guides
Vision
BY 2023 Scouting will be the world's leading Educational Youth movement,enabling 100 millon Young people to be active citizens creating positive change in their communities and in the world based on shared values.
Mission
The Mission of Scouting is to contribute to the education of young people ,through a value system based on the Scout Promise and law,to help build a better world where people are self –fulfilled as individuals and play a constructive role in society.
Tree Plantation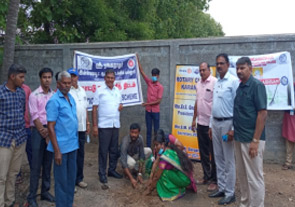 In order to maximize the oxygen, on behalf The Bharat Scouts and Guides are planted the trees in the campus along with Principal, In charges and Students
Pre Camp Classes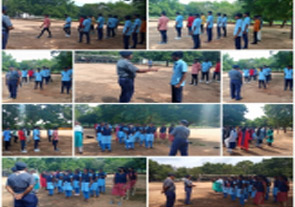 Tamil Mandram
முன்பு கண்ட நிகழ்வின்படி நமது கல்லூரியில் 12.01.2022 அன்று பொங்கல் விழா நடைபெற்றது . முதலில் ஆசிரியர்களுக்கான விளையாட்டுப் போட்டிகள் நடைபெற்றன . பின்பு போட்டியில் வெற்றி பெற்றவர்களுக்கு முதல்வர் பரிசுகளை வழங்கி கௌரவித்தார் . அதை தொடர்ந்து பொங்கல் வைத்து பொங்கல் பூஜை இனிதே நடந்தது. பின்னர் அனைவருக்கும் பொங்கல் வழங்கப்பட்டு விழா நிறைவுற்றது.